Fashion
Here's Why Denim Shorts Are Never Out Of Fashion!
Denim shorts have long been a staple outfit for many individuals. They were first seen in the 60s, and their popularity surged with Daisy Mae's cutoffs. This trend did not stop with Daisy and continued to fascinate style enthusiasts for a long. Denim shorts are a fashion item that is meant for longevity. Denim shorts nowadays are also popularly called jorts. They are the perfect summer solution for anyone who adores jeans. Given fashion's new utilitarian mood, it is not so surprising that denim is currently enjoying an extended phase in the upper echelons of the designer outfit. Along with bags and belts, Denim shirts are rapidly invading the wardrobes of many style-conscious individuals.
Some denim shorts that are in style for this summer
There is always a doubt in the minds of many fashion-conscious women whether jorts are out of the way. However, they would be relieved knowing these bottom-wear pieces would never go out of style. It is so because of their versatility and easy accessibility. Interestingly, this shorts category has been prominent at parties, social occasions, and streets. Here is the list of denim shorts styles that will be in fashion for this season.
Play with patterns and colors
It is a commonly observed fact that a majority of days in summer are bright and sunny. This is the reason that you have the option to play with patterns and colors. You can always style your washed denim shorts with striped t-shirts, colored tees, or crop tops. You have to finish the look by adding casual slingbacks.
Always remember to accessorize
It is usually advised that you should never forget accessories. They are essential things to depict your personality. You can also try some eye-catching items, which include various bracelets, necklaces, and rings. In this manner, you would always sport a laid-back look in your denim shorts.
The idea of dressing up in distressed shorts
Always opt for distressed shorts if you have an ardent passion for sport and a casual street look. Interestingly, these shorts with wedges would still complete your look. Opt for trendy sneakers for all-day comfort in the summer. That kind of watch would help you depict yourself as a bold and charismatic personality.
The denim on-denim trend
It is another popular style trend in the echelons of denim. If you are keen on wearing denim shorts, always opt for denim on the denim trend. This trend implies that your top wear has to be made of denim. Complete your face with a denim canvas shoe for a more authentic look. Breaking the shackles of monotony is always great by going for vibrant and bright colors. So if you are wearing denim shorts that are light in color, opt for dark-colored top wear. In this manner, you would always look chic.
Baggy tops
It is widely accepted that most girls love to sport summer-weight sweaters during those long strolls at night. They are also an excellent top wear portion to pass your time sitting by the campfire. Hence, be ready to experiment with summer-weight sweaters and denim shorts. Furthermore, you can also opt for wearing baggy tops with ripped and distressed jeans. These outfits would suit any body type and help you stay unique.
Dye effect denim shorts
This style trend is currently grabbing a majority of headlines in the world of fashion. For a long, the dye effect jeans were in high demand. It is not that there is a decline in their order now. However, the dye effect of denim shorts is a new revelation in fashion nowadays. If you are interested in sporting this look, make sure you have a slight belly. Moreover, always make sure that you wear a turquoise-colored top with these dye-effect denim shorts. It is so because turquoise as a color is often credited with making this look trendy and classy.
Aviators and shorts
If you want your looks simple, opt for simple black tees and aviators with your distressed denim shorts. If you're going to glam up yourself a little more, opt for a chain handle shoulder clutch. This look would always help you hog the limelight and be beneficial in making you the cynosure of all eyes.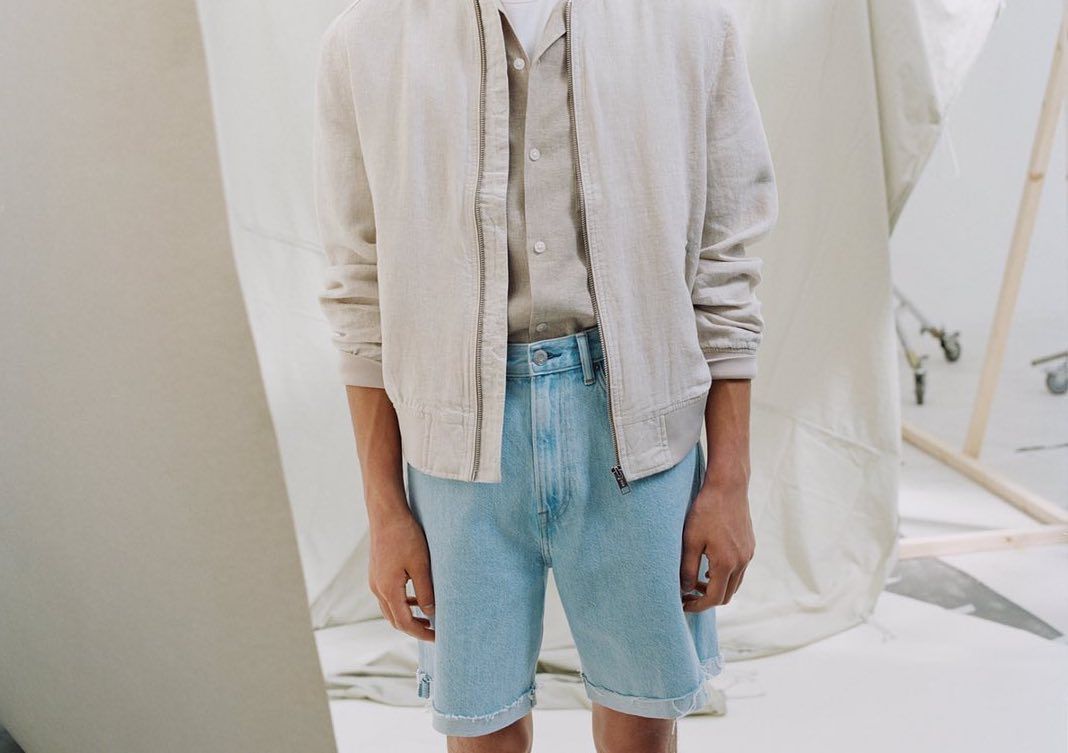 Source:
Denim shorts for men
Most shorts have been designed in such a manner that they are meant to be comfortable and trendy. It always provides you with freedom of movement and much-needed flexibility. Men, too, can wear denim shorts when summer's scorching heat becomes unbearable.
The fit
The fit should always be on par with the shape of your body. If you are tall, opt for a longer pair of shorts for a complete look.
Color
They are available in a variety of colors. However, it is a good idea to stick to basic shades of denim. Neutral colors are also a great alternative if you want to ensure that your shorts comply with the top you are wearing. White tees are a favored option with almost any color of denim shorts.